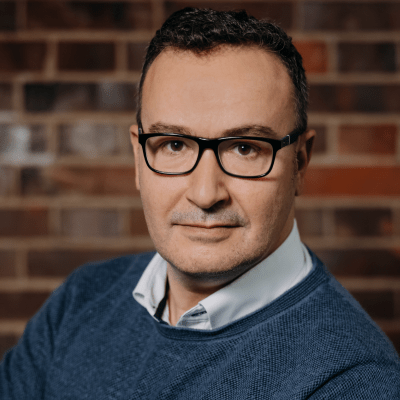 Daniel Abbou
Managing Director
Daniel Abbou has been Managing Director at the German AI Association since May 1, 2020. His responsibilities include political and press communication as well as support for funding projects.
Daniel Abbou previously founded AI Hub Europe and advised politicians and companies. He was press spokesman in various ministries of finance and economics, including spokesman for the former Senator of Finance and current State Secretary in the Federal Ministry of Economics Ulrich Nußbaum. In the first Baden-Württemberg cabinet of Kretschmann, he held the position of deputy government spokesman. His enthusiasm for digitization and innovation has accompanied him since his time as a television and radio journalist for new technologies.
Team German AI Association
Katharina Fischer
Assistance to the management
She has been a specialist in office and project organisation since 2020. In the last 5 years, she has primarily helped shape customer communication, marketing and sales activities as well as the development of a digital product at the futurology institute 2b AHEAD ThinkTank. She is particularly looking forward to advancing the topic of AI across Germany as well as better understanding the members and encouraging their participation.
Stefanie Baade
Location management Baden-Württemberg
In Heilbronn, Stefanie Baade is building and expanding the community in Baden-Württemberg and helping to shape the Innovation Park Artificial Intelligence in cooperation with many partners.
After her studies in International Management, she worked for six years in management consulting with a focus on product and project management. During this time, she mainly had contact with AI in projects with autonomous driving and is at home in the SME sector. 
Iris Hempel
Project lead OpenGPT-X
After studying linguistics and communication science at the TU Berlin, she worked for five years as an innovation manager and project manager in accelerator programmes. Here she accompanied German and European start-ups on their way from the founding idea to the conclusion of a first financing round. The focus was primarily on start-ups in the areas of high-tech, sustainability and women in tech.
In our team she is responsible for the project management of OpenGPT-X and contributes her experience in the management and acquisition of public funding projects.
Alex Dickmann
Project lead AI Village and location management NRW
Alex Dickmann is setting up the AI Village in Hürth and supports and coordinates the members of the AI Bundesverband in North Rhine-Westphalia. Previously, he was in charge of the OpenGPT-X and LEAM projects in the association.
Before joining the German AI Association, he studied Digital Communication Leadership in Salzburg and Brussels, worked for a Member of the European Parliament and supported the DAAD field office in Jakarta, Indonesia.
Phillip Handy
Communications und Public Affairs

Phillip Handy is responsible for public relations and public affairs in the Berlin team of the German AI Association. He also co-manages the association's OpenGPT-X project.
Previously, he worked for four years as a project manager for an event agency, organising events for clients in Berlin's political scene. After studying politics and European studies in Cambridge (UK) and Berlin, he completed an internship at the European Commission in Brussels and worked in operations for an AI start-up.
Alessandro Blank
Project Support Public Affairs and Innovation Projects
Alessandro Blank works in the public affairs team of the AI Bundesverband with a focus on EU policy. He also supports the development of the AI Village in Hürth as an innovation project manager. Previously, he worked as a student trainee in the association's policy team.
Alessandro Blank studied Political Science in Zurich and International Affairs and Security in Berlin and Rome and worked, among other things, for a political think tank in Berlin.
Breana Callan
Public Affairs & Politics
Niklas Bub
Public Affairs & Politics