Daniel Abbou and Vanessa Cann manage the German AI Association. They are responsible for the day-to-day business of the association and support the board in fulfilling its tasks.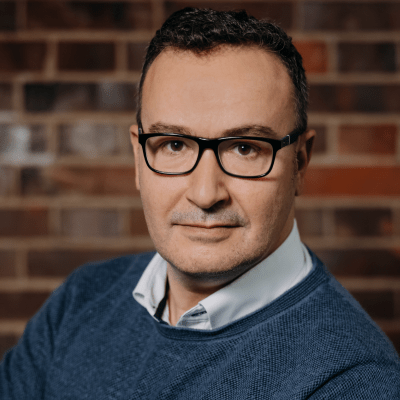 Daniel Abbou
Managing Director
Daniel Abbou has been Managing Director at the German AI Association since May 1, 2020. His responsibilities include political and press communication as well as support for funding projects.
Daniel Abbou previously founded AI Hub Europe and advised politicians and companies. He was press spokesman in various ministries of finance and economics, including spokesman for the former Senator of Finance and current State Secretary in the Federal Ministry of Economics Ulrich Nußbaum. In the first Baden-Württemberg cabinet of Kretschmann, he held the position of deputy government spokesman. His enthusiasm for digitization and innovation has accompanied him since his time as a television and radio journalist for new technologies.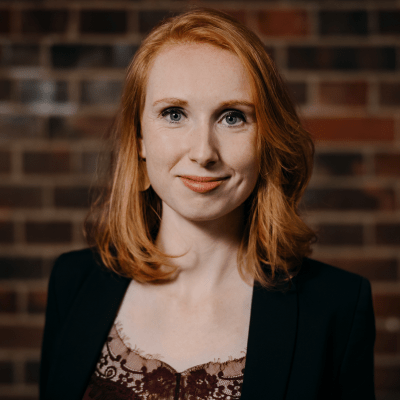 Vanessa Cann
Managing Director
Vanessa Cann has been Managing Director at the German AI Association since May 1, 2020. Her  responsibilities include membership and partner management as well as association development.
The Political Scientist previously led the Artificial Intelligence and Future Mobility platform at the German Startup Assocation, where she connected startups with established companies and investors. Vanessa Cann developed her interest in artificial intelligence in political consulting, where she advised Fortune500 companies on their digital policies. She is involved as a mentor for startups and with Women in AI.
Team German AI Association
Katharina Fischer
Assistance to the management
She has been a specialist in office and project organisation since 2020. In the last 5 years, she has primarily helped shape customer communication, marketing and sales activities as well as the development of a digital product at the futurology institute 2b AHEAD ThinkTank. She is particularly looking forward to advancing the topic of AI across Germany as well as better understanding the members and encouraging their participation.
Stefanie Baade
Location management Baden-Württemberg
In Heilbronn, Stefanie Baade is building and expanding the community in Baden-Württemberg and helping to shape the Innovation Park Artificial Intelligence in cooperation with many partners.
After her studies in International Management, she worked for six years in management consulting with a focus on product and project management. During this time, she mainly had contact with AI in projects with autonomous driving and is at home in the SME sector. 
Dr. Sandra Bütow
Partnermanager
In addition to a degree in natural sciences, she looks back on years of experience in network and project management. She also spent many years advising companies on investment projects and assisting them in establishing themselves in Germany. In her last position, she built up the marketing and medical affairs departments in a healthcare start-up.
Dr. Jessica Stock
Project-lead OpenGPT-X
Jessica is a trained sociologist of technology and innovation researcher. Her passion is innovation processes and how to turn innovative ideas into successful innovations. Most recently, she worked for the Bundesverband Deutscher Berufsförderungswerke in a 3-year research project on the interface between AI and inclusion. For her work in the association, she hopes to be able to drive innovation processes in the context of AI in a value-oriented way.
Alex Dickmann
Kommunikationsmanager OpenGPT-X
Valentin Roth
Politics & Communication
Julia Sartisson
Communication
Esther Schragmann
Community Management
Franziska Fink
Politics & Communication